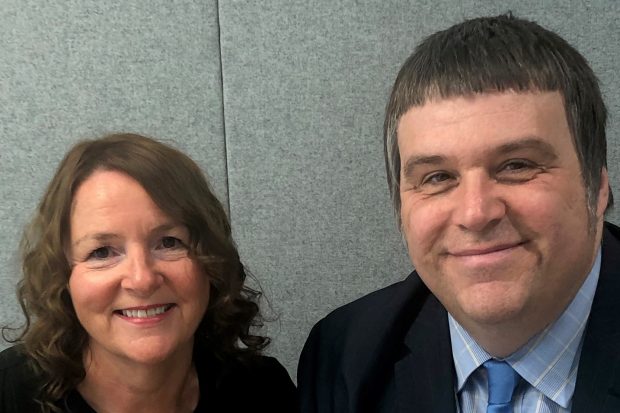 ---
Welcome to our first joint blog!
We are extremely excited to be taking on the role of Chief Social Workers for Adults and to continue the great work Lyn Romeo has led over the last six years.
Lyn has been an inspiration and role model to us both and we have greatly valued and enjoyed our time working with her. We wish her and her family well for the coming year and look forward to staying in touch.
We have been asked to talk a little bit about ourselves so that people can get to know us. We had thought about giving you a tour of our backgrounds and career but that wouldn't really tell you much about us as individuals. Instead we thought we would share a little about what social work means to us and our values and aspirations for the profession.
It's too easy to just quote the core values and beliefs that underpin our work, but as we sit here in the DHSC canteen, our discussion has already drifted to those elements we individually hold dear.
We found ourselves talking about compassion and reflecting that this quality lies at the heart of everything we do as social workers. It shines a light on the human behind the referral, the duty phone call or the professional meeting.
What does social work mean to us?
It allows us as individuals to really embed humanity into our everyday practice. Our empathy with - and respect for - people regardless of their situations, whatever they may have done, or whatever they have experienced, is at the very heart of our profession.
Then there are those words, actions and emotions that still do not permeate as much as they should through conversations we have with people.
Love, a wonderful yet often painful experience, can be the avoided discussion, the perceived risk, or the thing we forget is central to a person's life.
As social workers we need to embrace the fact that love has such a significant impact on everyone's lives and wellbeing. We should respect its influence in the plans we make, and we must understand its power in decisions made by others which concern us. Love is complex, it is real, and we should acknowledge and embrace it in our practice.
Reaching out to others
Of equal importance is the need to build trust and strength in our collective efforts to deliver the very best support we can.
Taking personal and professional responsibility for our actions, making sure we reach out to partners and form relationships benefitting the people we work alongside. This cannot and must not be done without the voice of people through co-production and partnership.
These relationships can be formed with a wide variety of individuals and organisations, in both professional and informal settings - from NHS colleagues in clinical spaces, to those working in or attending places of worship, to the owners of family run corner shops.
Social work has no set mandate for diagnosing or treating people, but we do have a duty to be there, help people form and re-form relationships and connections to support human and community cohesion in all its forms. It can only do this via partnerships and sharing.
People experience the most diverse experiences in life and often social workers are called when something has gone wrong, or a major event has impacted on a person, family or community.
At such times, hope is often the anchor to the future. People may not always be ready for these conversations, they may not believe there is hope in that particular moment, but it must never leave our thinking.
It's not just about the difficult times
That said, in our wide, busy and complex systems, we and our partners can often forget that people turn to social work and social care because they do have hope and aspirations.
It's not inevitable that something has gone wrong, they may just need a little bit of our professional support to take the next step.
To do any of this, we must embrace the fact that at our very core, human, empathic and relational practice is what we do.
As Maya Angelou reminds us 'people will forget what you say and forget what you did, but they will never forget how you made them feel'. This is relationship-based practice by any other term.
This is just a little taster of the values that will underpin our work in the offices and corridors of DHSC and on our travels across the country. Please join us on this exciting journey.